Fast, powerful, safe and easy to control
Conrad is an internationally oriented, innovative organization from Emmeloord with over 100 years of experience in the design and production of customer-specific vertical drilling installations. Conrad develops drilling rigs and a wide variety of supporting machines and resources with the highest quality that distinguish themselves in power, speed, safety, durability, and ease of use. Customization as customization is intended.
Core values
Solid
Real Dutch craftsmanship and virtue, combined with high-tech possibilities. SOLID AS A ROCK, FOR OVER 100 YEARS.
Driven
Driven by technology, by improvement. Passionate about the development of the most advanced international products.
Custom
Continuous innovation, serving our clients. Drilling installations that fit like a glove, that is customization at Conrad.
Powered
The power of Conrad and its machines? every drilling rig is designed, developed and programmed under one roof.
History
Conrad used to form part of the illustrious and internationally-operating Stork, a company that produced cranes, dredgers and gearboxes, and was renowned for being progressive as far back as 1889. That deep-seated drive will never leave our DNA. As one generation succeeds another, our obsession with improvement proves contagious. New colleagues feel that same obsession, that same drive as the staff at Conrad's Spaarne site in Haarlem.
We all want to progress and make the world that bit better; that's our aim. Step by step, without blowing our own trumpet.
Wanna know where we came from?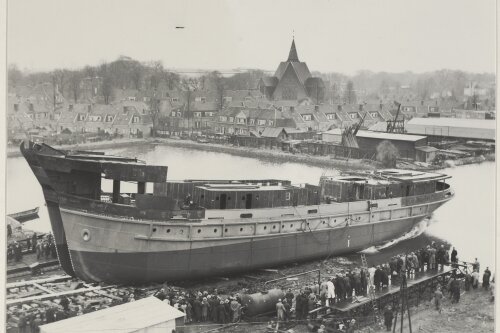 Aanpak
FOCUSING ON HUMAN CAPITAL
DUE TO THE EXPONENTIAL GROWTH IN THE MARKET, DRIVEN BY THE ENERGY TRANSITION, OVER THE LAST 5 YEARS WE HAVE HAD TO TAKE STEPS AGAIN AND AGAIN TO MEET THE DEMAND FOR OUR MACHINES,' INDICATES - OWNER AND HEAD OF INNOVATION AT CONRAD - BRAM MUURLINK. GETTING OFF THE GAS MEANT FOR US GETTING ON THE GAS! A GREAT COMPLIMENT FOR THE TEAM AND A GREAT CHALLENGE THAT PROVIDES THE NECESSARY DYNAMICS. WE CARRIED OUT SEVERAL RENOVATIONS, THE LAST OF WHICH WAS COMPLETED IN 2022. WE HAVE MADE THE CHANGEOVER TO AN ADVANCED STORAGE SYSTEM FOR INVENTORY MANAGEMENT, ARE CONSTANTLY OPTIMIZING OUR PROCESSES AND, DUE TO OUR GROWTH, HAVE JOB OPENINGS FOR NEW POSITIONS. AND THE TEAM HAS ALREADY GROWN BY A FACTOR OF 5 IN THE LAST FEW YEARS. ALMOST 100 PEOPLE NOW AND A PRODUCTION IN CUSTOM-MADE MACHINES OF 35-40 PER YEAR. CONRAD IS ON THE MOVE!
THIS GROWTH GAVE MUURLINK THE OPPORTUNITY TO REDESIGN THE ORGANIZATION AND TO FOCUS EVEN MORE ON INNOVATION OF THE MACHINE LINE. PARTNER LINDA KLASTER HAS BEEN ACTIVE IN THE ORGANIZATION SINCE 2009 AND, AS HR DIRECTOR, IS OF GREAT VALUE FOR THE BALANCE BETWEEN TECHNOLOGY AND PEOPLE. BECAUSE IT IS PRECISELY FROM THE PEOPLE SIDE THAT INNOVATION ARISES, THAT IS NO SECRET. SINCE 2021 THE MT HAS ALSO BEEN EXPANDED WITH FINANCIAL & BUSINESS CONTROLLER JANNETTE DE GROOT-SIJTSMA AND GERT-JAN KARMAN IN THE ROLE OF GENERAL MANAGER. AT CONRAD WE FOCUS ON HUMAN CAPITAL. WHEN INSIGHT INTO FIGURES AND ATTENTION FOR PEOPLE COME TOGETHER, BEAUTIFUL THINGS HAPPEN.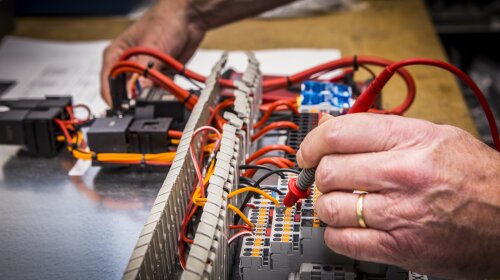 THE BACKBONE IS CONNECTED TO ...
Customization means puzzling. Every single time. Of course you bring all your experience with you. But with every new machine you learn something new. In the new construction department, we are busy connecting all the individual parts, things like the undercarriage, the drilling mast, the motor and the controls. Everything is about connection. Between departments and team members, but also between software and hardware. As in the song Dem Bones about the connection between all the bones in the human body. In mechanical engineering, it's no different. A part that is wrong directly affects the rest. Our state-of-the-art production line and workshop guarantee the high quality ground drilling machines. Happy employees, high-end solutions and structure, order and cleanliness in the processes, that is the basis of Conrad. Everything and everyone is connected.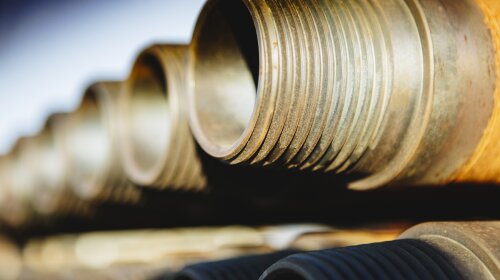 Conrad Statements | we do what we promise
We are not so much about chest-beating, but after all these years we know what we promise. We stand for more than a century of knowledge and experience from the international field and guarantee state of the art soil drilling rigs. Every drill is customer specific, customization is in our DNA. We produce compact and powerful machines for any soil and for any location and we are faster, more effective and more sustainable than ever thought possible. Moreover, Conrad belongs to the team. Developing together, building together. And so we invest heavily in our people. From the first contact with potential trainees or specialists to a fitting farewell with retirement. Familiarity is in Conrad's DNA. We work internationally, but almost all of us come from the local area. That makes us understand each other, understand what the goals are and what tone fits. Still, everyone has their personal challenges and specialization. And there may, no, there must be time and attention for that.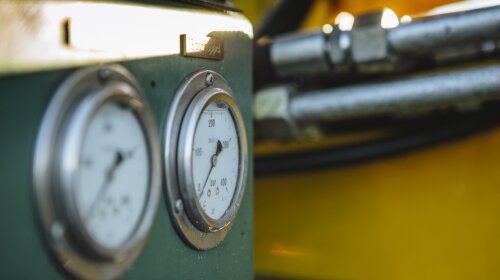 4/7 service is our benchmark, worldwide
Since 2022, service and maintenance have been housed in Conrad Service Solutions. After all, our work does not stop after the delivery of a machine. Drilling rigs are used intensively, we don't have to explain that. And so service & maintenance is essential. That machine needs to run as much as possible. That is why we are available by phone 24/7 to assist if necessary, even abroad. With a fleet of service vans on location or, when necessary, with an express post on Saturdays. To keep the machine maximally productive also in the future, Conrad stands for a direct and customer-friendly service accompanied by professional support. We relieve our clients of any worries about service and maintenance of the purchased installations and record this in customized maintenance contracts. Conrad Service Solutions carries out all service and maintenance work on behalf of Conrad.
Product groups
WE ARE PROUD OF OUR PRODUCT OFFERING THAT CONSISTS OF MOST ADVANCED VERTICAL DRILLING RIGS AND ACCESSORIES. FOR MORE THAN A CENTURY, EVERY MACHINE CONRAD DELIVERS HAS BEEN CUSTOM DESIGNED. FROM STRAIGHT FLUSH DRILL MASTS TO FULLY AUTOMATED DRILLING MACHINES AND USING THE WIDEST VARIETY OF DRILLING METHODS. WE WANT TO REMAIN AT THE FOREFRONT OF THE INDUSTRY. THIS DRIVE ENSURES THAT WE CARRY OUT EVERY ORDER WITH PASSION AND VIGOR.