BOXER 120 GT
The Boxer 120 GT for geothermal energy delivers maximum value for money. This Boxer has a pulling force of five tons with which it can drill holes up to 180 meters very efficiently. And this simply means that he can serve most of the market.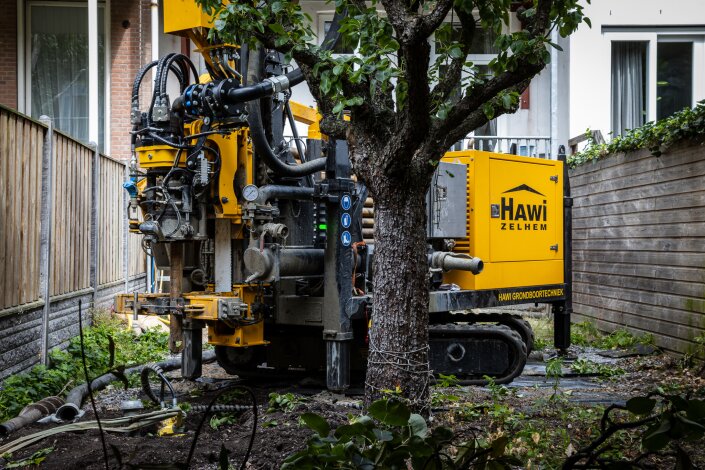 Overview
VALUE FOR MONEY
The Conrad Boxer 120 GT is an economically-priced drilling rig that offers exceptional performance. Compared with the smaller Boxer 60, this rig has significantly more storage capacity, can handle tougher conditions and drill deeper.
As the Boxer 120 GT is relatively low in weight, it's still easy to transport in one single transport. This 120 GT is actually pretty compact. Pure efficiency on every inch of superstructure. The upper frame rotation also makes this great for use in confined spaces. And you don't need to worry about damaging gardens and paving. Its long-stroke outriggers also make it easy to set up on any slope or embankment.
This Boxer has a traction force of five tonnes so it can drill holes up to 180 metres with extreme efficiency. So it's a model suitable for most of the market.
Despite its compact size, this machine is equipped with 3-metre pipes, including a manipulator, which is good both from an ergonomic viewpoint as well as for various staffing cost reasons, as one person can implement the entire drilling project.
The pull-up pull-down system drive is via a timing belt; a technology that has more than proven itself over the years. The main advantage is that this solution doesn't need daily maintenance. The hydraulic system is top class as we only use well-known Danish and German brands for these and for our control valves.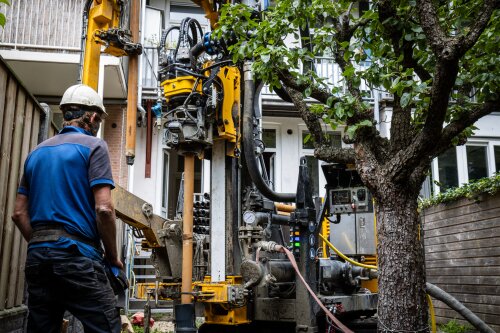 Operation convenience
The Scanreco operating system makes life so much easier for every drill operator. Operators can use the multi-functional controller for quick menu navigation on the eight-inch LCD monitor. The hi-res anti-reflection screen is always easy to read even when the sun's shining and the updated layout provides a clear overview and amazing functionality.
The Boxer 120 GT can be equipped with various types of water pumps. This Boxer can also be used with the Preventer for cased drilling.
Kubota 56 kW
This machine is equipped with Kubota's compact diesel engine with a capacity of 56 kW. Kubota engines are among the best in the world. This energy-efficient and environmentally-friendly product line meets all the latest emission requirements and delivers simply incredible performance. All Kubota engines up to 56 kW comply with stage 5 (V), without needing an SCR system or Ad Blue System, making them considerably more economical in purchase and use. The costs throughout the service life are also lower as Ureum is used, so filter replacement and associated maintenance are no longer needed.
Specifications
Technical specifications

| | |
| --- | --- |
| Engine | Kubota, V3307-CR-T-E5, |
| Power | 56 kW bij 2600 rpm |
| E-mission | Stage V |
| Stroke Drill mast | 4,2 meter |
| Pull-up force | 5.000 daN |
| Pull-down force | 2.500 daN |
| Drill head passage | 75 / 100 mm |
| Drill head torque | 300 daNm |
| Drill head speed | 10 - 120 omw/min |
| Control system | Parker I-QAN CANbus systeem |
| Drill pipe manipulator | Radiographic |
| Drill pipe storage system | Opslag 180 meter |
| Winch | 900 daN 60 meter |
| pump | 100 m3 / 7 bar |
| Operation | Radiographic |
| Weight | 7,000 kg |
| Bottom pressure | 0,48kg / per cm2 |
| Diesel tank capacity | 140 Liter |
Options

| | |
| --- | --- |
| Rotatable undercarriage | Rotate 360 degrees |
| Central grease lubrication | SKF |
| Masttranslation | 0.4 meter stroke |
| Modem | Remote diagnostics |
| Automatic manipulator | Semi-automatic |
| Electric | |
| Truck | |
Want to know more?
Do you want to know more about the BOXER 120 GT and its capabilities?
Ask your question using the contact form below.