SBM 6
The Conrad SBM 6.0 jetting mast is a mutli functional and customized machine for dewatering. The jetting masts are robust and durable and often outlive their chassis. And that also offers opportunities for the future.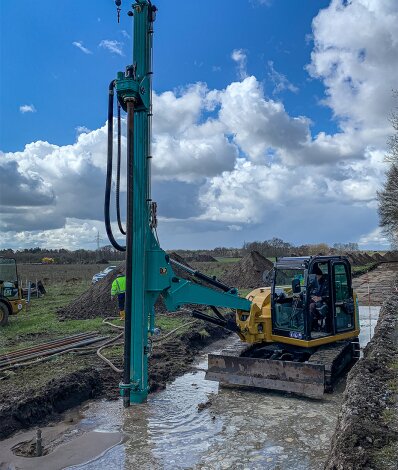 Overview
THE CONRAD JETTING MAST SERIES
The SBM series was originally developed for machine positioning of filters between 3 and 9 metres at dewatering projects in one go. This machine series makes manual work a thing of the past and has been continuously developed over the past twenty years to become the multi-purpose jetting mast we now offer in various sizes and tonnages. The jetting masts are robust and durable and often outlive their chassis. And that also offers opportunities for the future.
The advantage of this unique jetting mast series? Conrad can custom fit any type of jetting mast to an existing excavator. Conrad jetting masts are supplied with a stroke of 6, 9 and 10 metres. The project's depth and type of dewatering determine the machine and chassis choice. The larger masts require the excavator to have a more stable base. The smaller models come into their own in work areas where space is at a premium and they are easier and cheaper to transport.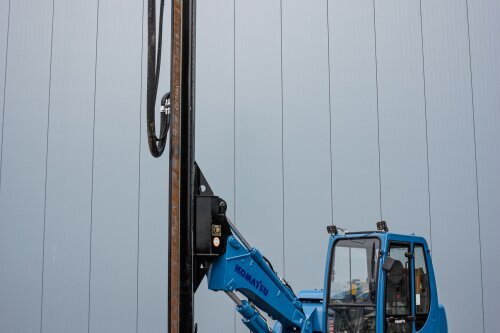 Operation convenience
Conrad's SBM series is distinguished by its specific construction that provides drill operators with maximum visibility of the lance. Conrad fits the drill lance to the front at a 45-degree angle and not in the direction of the cabin, which not only offers more control over the drilling process, but also gives you greater flexibility when drilling in difficult conditions, such as a recess in sheet piling or in the corners of the borehole.
Customised down to every last detail
Direct attachment to an excavator, with main boom adjustment to optimise both drill setup and transport.

Quick exchange system to connect the jetting mast to the excavator, enabling multifunctional excavator use.
A telescopic drill mast with 6-metre stroke enables drilling to 12 metres deep.
Height adjustment between the mast and main hinge increases the SMB's scope. This solution means the machine can drill over sheet piling or on lower or higher surfaces.
Transverse rotation adjustment between the mast and main hinge so you can set the mast to drill vertically when the excavator is at an angle.
Swivel/rotation setup to enable even better drilling in confined spaces and awkward corners. Conrad fits the lance to the front of the jetting mast as standard.
Both the jetting mast and excavator can be controlled remotely.
Control levers are fitted in the cabin so the entire drilling process can be controlled from the cab.
Specifications
Technical specifications

| | |
| --- | --- |
| Tonnage graafmachine | 8 ton |
| Slag Boormast | 6 meter |
| Pull-up kracht | 1,000 daN |
| Pull-down kracht | 500 daN |
| Doorlaat boorkop | 75 / 100 / 125 mm |
| Koppel boorkop | 300 / 600 daNm |
| Toerental boorkop | 60 / 100 omw/min |
Options

| | |
| --- | --- |
| boorlans | 6 meter |
| Telescooplans | COd 101,6/70 x 10000 |
| Afvangklem | Openklapbaar |
| Lier | 500 kg 30 meter staalkabel |
| Mastverstelling | 2 x 5 graden |
| Masttranslatie | 1 / 1,5 meter slag |
| Afsluiter in waterwerk | 3 inch vlinderklep |
| Radiografische boorfuncties | Scanreco |
| Radiografische graafmachinefuncties | Scanreco |
Want to know more?
Do you want to know more about the SBM 6 and its capabilities?
Ask your question using the contact form below.